Trainers: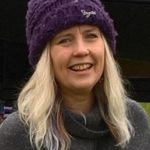 Susie Steel
Godly Play Scotland and Godly Play UK, in conjunction with the Godly Play Foundation, are excited to offer a series of online workshops, exploring some things that might influence our Godly Play circles and how we can use these in our practice.
The first workshops explore Adverse Childhood Experiences in a Godly Play Circle.
They are online on and booking is a must … you can book by clicking on the date:
Thursday 3rd March at 9am (GMT) or
Thursday 31st March at 7pm (BST)
About the Workshop
Susie Steel will give a very basic introduction to the study of the impact of Adverse Childhood Experiences (including things likes bereavement, abuse and neglect), and how she feels the Godly Play Room can be a very safe place for those who have had experience of these – both children and adults.
Susie will share her experiences of running a Godly Play room in a very deprived end of a neglected city; what she learned, and what she still wonders. There will a chance to discuss together the implications for practice in your contexts – we may not solve all the questions, but we can learn so much from one another
About Susie
Susie Steel is a Godly Play UK Trainer and and ACEs Trainer.
Susie lives in Hull, Yorkshire. She has a teaching background of nearly 30 years, with a special love for Early Years education. Susie trained as a Godly Play trainer in 2017, but has been using Godly Play across ages and contexts since 2006. More recently she has become aware of the impact of trauma on children's whole lives and wellbeing, and has become something of an activist; trying to raise awareness of this locally and nationally. Susie also now delivers training in ACE (Adverse Childhood Experiences) and Trauma training across the country for ACEsUK.
Since leaving teaching Susie has been working in a local women's refuge, working with the nursery age children and some family groups as they recover from the impact of Domestic Abuse.
Susie also works part time for Trinity Methodist Church in Hull where she runs a child and carer group, and coordinates the REuniform charity which collects and redistributes used school uniform to anyone that needs it in the Hull area.
We are offering this presentation with no charge but would ask that you consider making a donation of $10 (US) to the Godly Play International Development Fund. When making your donation include the International Development Fund in the dedication field.